Adult Sunday School (Adult Education)

The Adult Sunday School class meets at 8:50am Sunday mornings.  The meeting format is a video presentation followed by discussion.  The class concludes in time for the 10am worship service.  Drop-ins are welcome.
The Adult Sunday School class began a new study January 21st, the videos associated with our sermon series, Half-Truths.  This is a  5-session course produced by Rev. Adam Hamilton, who wrote the book on which the sermon series is based.   Join us at 8:50am on Sunday mornings for this study.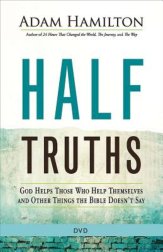 A short overview:
They are simple phrases. They sound Christian—like something you might find in the Bible. We've all heard these words. Maybe we've said them. They capture some element of truth, yet they miss the point in important ways.
The 5-session DVD features Adam Hamilton presenting to a group in his engaging style. Adam breaks down these common sayings using Scripture and story with practical applications. Each of the five sessions contains 8-10 minutes of video and is perfect for adult and youth classes. All video sessions are closed captioned.
Session titles include:
Everything happens for a reason.
God helps those who help themselves.
God won't give you more than you can handle.
God said it, I believe it, that settles it.
Love the sinner, hate the sin.
View and share the flyer.
This is a drop-in class without homework.  Of course, some Bible reading may be in order for this class.  We anticipate this course to be thought-provoking and lead to interesting discussions.  Each session is usually 20-30 minutes which allows for discussion time before adjourning for worship.
Please join us at 8:50am Sunday mornings in the
Fireside Room.  Pour yourself a cup of coffee or tea.
The video starts at 9am.
Class is over in time for the 10:00 worship service.
Contact Sandy with any questions: adultsundayschool@campbellunited.org
ALL adults are welcome.

African Fellowship & Bible Study   

Whether you are from Africa or not, you are welcome to come to African Bible Study, which meets twice a month in the Chapel.
For more information, contact Pastor Daniel: pastorgbundema@campbellunited.org
Save
Save
Save