Campbell UMC Music Ministries
Scroll down to find out about all of musical groups at Campbell UMC.  For more information on any of the groups in our Music Ministries, please contact our Director of Music Ministries: music@campbellunited.org
---
Coming Up:
Sundays in July 2017 – African Choir will sing
Sundays in August 2017 – Small Groups will sing
(sign up in Choir Rehearsal Room, 2nd floor, AMY Bldg)
---
Recent Musical Events:

 June 4th, 2017 – Music Sunday!
Prelude – "Joyful Rhythm" – Diamond Ringers (Children's Handbell Choir)
"Come, Christians Join to Sing" – Joyful Notes Children's (vocal) Choir
Chancel Choir with Carillon Choir, piano, organ, flute, tympani – "Holy Holy Holy"
"Hakuna Wakaita sa Jesu" – African Choir
Toccata on the Pentecostal Chorale "Der, Geist des Hern" ("The Spirit of the Lord") – Organ, Shine Kwon
_____________________________________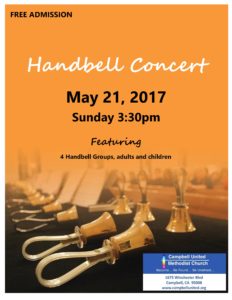 Sunday, 21 May 2017 – Handbell Concert!  Adult and Children's Handbell Choirs
Share the Handbell Concert Flyer and Facebook event to invite friends and neighbors!
_____________________________________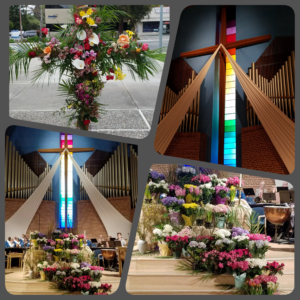 April 16th, 2017 – Easter – Bells, Brass, Choirs and Flowers —
a beautiful and joyful celebration! Experience it again:

See more Easter Photos HERE
_____________________________________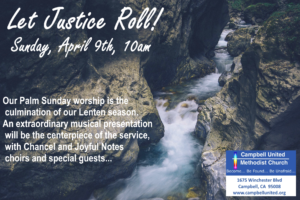 Palm Sunday – April 9, 2017
10:00am
Our Palm Sunday worship is the culmination of our Let Justice Roll! Lenten season.
An extraordinary musical presentation will be the centerpiece of this special service.
Performed by Campbell UMC Chancel Choir and Joyful Notes Children's Choir
Narrated by Daniel Hinojosa
"Let Justice Roll," is a musical adaptation of Martin Luther King Jr.'s "Letter from a Birmingham Jail," composed by Mark A. Miller, Minister of Music at Christ Church in Summit; composer, and faculty member at Drew and Yale Universities.
---
---
Vocal Choirs for Adults

The Chancel Choir leads congregational singing and presents an anthem for 10am service each Sunday morning, from the second week of September through mid-June. The Chancel Choir also leads the festival services during Christmas, and plays an important role during Holy Week and Easter. The choir presents concerts during Advent and Lent.  The Chancel Choir rehearses regularly on Thursday eves from 8 – 9:30pm and in the Sanctuary on Sunday mornings at 9:15am.
Choir Members: Click to see the document with schedule of 2017 rehearsal song mp3 and video links.

An "impromptu" Gospel Choir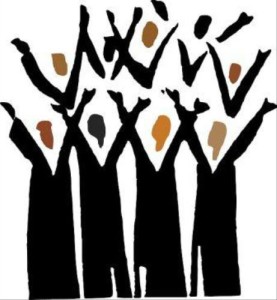 first sang at worship services during the summer of 2015, while the Chancel Choir was on hiatus. So popular it was, that this choir will continue to sing at worship services every 5th Sunday during 2016 and 2017. The Gospel Choir is open to everyone who would like to sing. No previous choral experience needed – just the desire to sing in a group setting. Come for rehearsal on Sunday mornings from 9 – 9:45am in the Sanctuary, and present the song at worship at 10am. Join in!
Children's Vocal Choir
The Joyful Notes is the name of the children's choir of Campbell UMC, with ages ranging from Kindergarten through 8th grade. They rehearse on Wednesday afternoons from 4 – 5pm, mid-September through May. They bring their gift of song to the worship services 5 to 6 times each year. In the Spring of each year, the Joyful Notes choir presents a musical based on a Bible story that incorporates dance, drama and clever stage setting.
The next season for Joyful Notes Choir is starting!


First rehearsal is Wednesday, Sept 7th, 2016 from 4-5pm.
The director, Mrs. Groff says, "I'm looking forward to seeing you on Wednesday, September 7th!   We are going to have a great year together!"  All are welcome to join!
_____________________________________
From Music Appreciation Sunday – June 5, 2016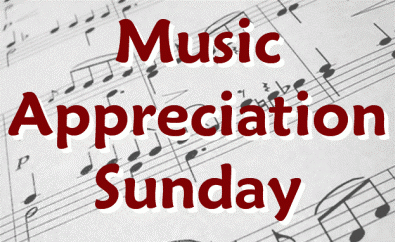 Listen to the Chancel Choir sing with Joyful Notes Children's Choir:
"Tell Me the Story of Jesus"
Listen to the Chancel Choir accompanied by "Four Hands on Piano"
(Shine Kwon and Sibyl Snyder): "Wonderful Grace of Jesus"
---
Handbell Choirs
The handbell program is a vital ministry in the musical life of Campbell UMC.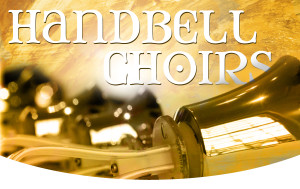 It provides another avenue for musical expression and fellowship. ALL handbell groups participate during worship services and also present an annual handbell concert in May.

Carillon Choir – Advanced Adult Handbell Choir
The Carillon Choir is a group of advanced handbell ringers that brings special music to Sunday morning services 5 to 6 times each year. They also enhance the worship and musical life of the congregation during Christmas and Lenten observances with this visually pleasing art. The Carillon Choir rehearses regularly on Thursday evenings from 6:45 – 8pm from mid-September through May.

New A'Peal Ringers – Intermediate Adult Handbell Choir
The New A'Peal Ringers are a group of intermediate handbell ringers that bring special music
to Sunday morning services about 3 to 4 times each year.
This group rehearses every other Saturday morning from 8:30-9:30am on a rotating basis.
Choir Members: Click to see Sept-Dec 2016 rehearsal schedule with links to listen & rehearse songs.
Highlights from a Handbell Concert:
Children's Handbell Choirs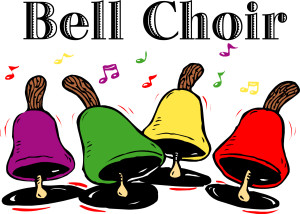 The Diamond Ringers ages range from 3rd grade through 8th grade. These young handbell ringers rehearse on Wednesday afternoons from 5 – 5:45pm, mid-September until February. They offer their gift of bell music for worship services 3 to 4 times each year.

The Discovery Ringers is a children's handbell group (from 4th grade and up) that meets every other Sunday afternoon at 2pm. They perform during the annual handbell concert in the Spring and occasionally during worship. The ability to sightread is required.
Save
Save
Save
Save
Save
Save
Save
Save
Save
Save
Save
Save
Save
Save