Faith ~ Hope ~ Love – in Action
We are women with a Purpose!
United Methodist Women (UMW) is a community of women of all ages.
We gather to support one another's spiritual lives, for creative supportive fellowship, and to encourage one another to self-giving service in the community and the world.
Campbell UMW General Meetings (for all Circle members) are held twice a year, the First Thursday of May and the First Thursday of December in the Fireside Room.
These meetings are followed by refreshments and a program.
UMW groups at Campbell UMC meet in "Circles" at different times and places.
Circles all meet the second week of each month, from September through June.
Find a Circle that is convenient for you.
All women are invited to attend.
For more information and to learn about circle groups, contact: umw@campbellunited.org

---
Upcoming UMW Events

June Program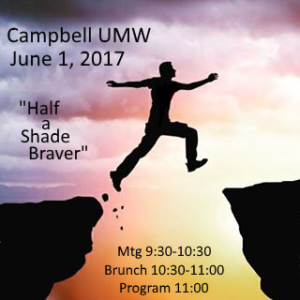 The Campbell United Methodist Women invite you to join them for their bi-annual program on
Thursday, June 1st, 2017,

in the
Fireside Room
.
Program: "Half a Shade Braver"
Please join us as our speaker, Pastor Kathi McShane, talks about how we live gracefully, individually and as a community, while change and uncertainty are swirling around us.  All are welcome!
Business Meeting from 9:30 am – 10:30 am
Coffee and Brunch from 10:30 am – 11:00 am
Program begins at 11:00 am
ALL Welcome!
---
Future Events
____________________________________________________
Other CA-NV Conference Events
Annual Conference Breakfast, June 25, 2017.
Mission u (weekend), Friday, July 28-Sunday, July 30, 2017, at Carson Valley UMC, Gardnerville, NV.
Mission u (2-day), Friday, August 11-Saturday, August 12, 2017, at Asbury Livermore UMC, Livermore, CA.
Mission u (1-day), Saturday, August 26, 2017, at Palo Alto First UMC, Palo Alto, CA.
Annual Celebration, October 21, 2017, at Loomis UMC, Loomis, CA
_____________________
El Camino Real District UMW Annual Celebration
October 29, 2017, location TBA.
_____________________
2018 Annual Membership Tea – April 22, 2018

____________________________________________________
If you would like to be part of the fun, fellowship and mission we share in these activities, please contact us at: umw@campbellunited.org
View Previous UMW Events
____________________________________________________________________
Do you know about the UMW Reading Program?       

For 140 years, United Methodist Women have been involved in mission that includes prayer, study and action. The Reading Program is a study opportunity, but it should also lead to action. The purpose of the program is to encourage United Methodist Women members to:
Expand understanding of and participation in God's mission.
Increase sensitivity to all human beings—their needs, interests and concerns.
Encourage critical thinking about issues facing humanity today.
Grow in understanding of Scripture as it relates to Christian faith in contemporary life.
Enhance self-knowledge and act from that knowledge.
Strengthen involvement in local and global Christian mission.
View the 2016 Reading Program Book Selections
---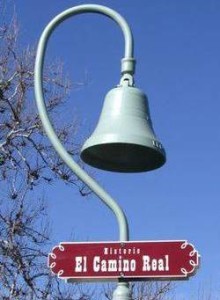 Campbell United Methodist Women is part of the UMW-El Camino Real District.
Find District Events here.
Check out the Facebook page:  El Camino Real UMW on Facebook
Find out more about the worldwide organization:
United Methodist Women and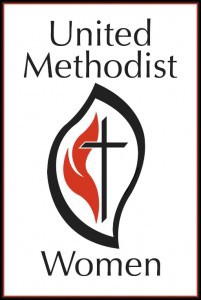 UMW on Facebook
Save
Save
Save
Save
Save
Save
Save
Save
Save
Save
Save
Save