A Reconciling Congregation – ALL are Welcome Here!    
_____________________________________
The Creed at Campbell United Methodist Church:

"We are Campbell United Methodist Church, people reaching out,
with open minds, souls and hearts –
Nourishing Spirituality
Engaging Creativity
Building Social Justice
Providing loving, welcoming community
– for Christ and the World!"
_____________________________________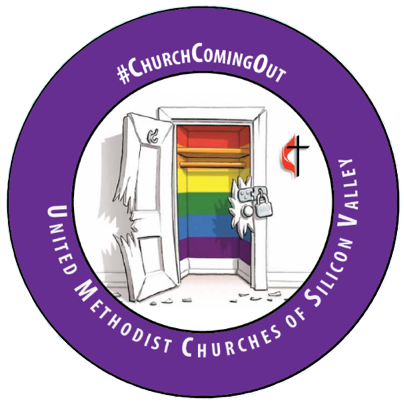 In the spirit of inclusivity, a team consisting of Campbell UMC and our sister South Bay Reconciling UMCs  –  Almaden Hills UMC, Alum Rock UMC, Good Samaritan UMC, Los Gatos UMC, and Sunnyhills UMC – has created social media accounts for outreach and sharing.
Please find and "like" ChurchComingOut on Facebook and tag #ChurchComingOut – @ChurchComingOut on Instagram
_____________________________________
EVENTS:
June 17, 2017 – Doors Open
 The musical, "Doors Open", written by Wesley UMC Music Director Mark Teagle, will be performed this Saturday evening, June 17th, at 7:30pm at First Congregational Church, United Church of Christ (www.firstccsj.org) on Hamilton and Leigh in San Jose, at 7:30pm.
Doors Open explores the lives of a small group of people, both LGBTQ and straight, who struggle with what it means to be involved in their church while loving the LGBTQ people in their lives.
_____________________________________
June 25, 2017 – Join UMC Churches at SF Pride 


Go to Glide and Pride with friends from our sister Reconciling Churches.
Folks have a couple choices in terms of transportation:
1) They can arrange their own carpools to arrive at Glide for their 9am service, or arrive at the parade staging area at 10:30am, or
2) Leave with the Wesley carpool from Wesley UMC at 7:30am, where we will drive to the Millbrae BART station, take BART into the city, and walk to Glide.
(Last year we drove to SF and it was very difficult to get out of the city after the parade.)
ALL Welcome!
_____________________________________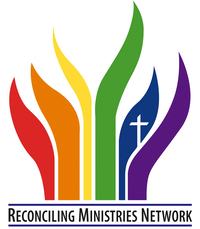 Campbell UMC is a member of the Reconciling Ministries Network (RMN).  Along with the RMN, we affirm the vision of the Methodist Church to be one of Open Hearts, Open Minds, Open Doors.  Campbell UMC is dedicated to working with RMN, the Love Your Neighbor Coalition, and other organizations at the UMC General Conference to change the official UMC stance to include LGBT clergy and candidates, and support (as well as perform the ceremonies of) marriage for all people.
_____________________________________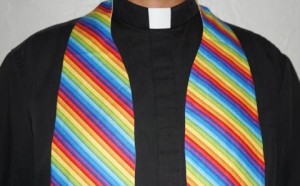 NEWS from General Conference:
Read the new Bishops' Pastoral Response (dated 18 May 2016)
to "A Love Letter To Our Church From LGBTQI Religious Leaders" (dated 9 May 2016, prior to commencement of General Conf)
_____________________________________

We support the Love Your Neighbor Coalition, which has been active during the 2016 General Conference for United Methodists from all over the world.  This important work continues…
Who is the Love Your Neighbor Coalition?
(from the website): "We are United Methodists committed to the embodiment of God's love and justice within and through the people and mission of The United Methodist Church… to assure The United Methodist Church is fully open to the presence, love and grace of God offered to all people."
They will remind delegates that our denomination is not yet fully welcoming to people from different race, cultures, physical abilities and sexual orientations.
If you would like to support the progressive work of the LYNC, make a check out to Campbell UMC with the memo, "Love Your Neighbor"; or, if giving cash, please also note "Love Your Neighbor" on the envelope.  You may place your gift in the offering plates, send to or call the church office.
As we noted in our own Statement of Reconciliation, All means ALL!
Thank you for supporting this important work!
_____________________________________
When we say that we are Building Social Justice, what does this involve?
"We are doers, with a commitment to engage and serve people in the world beyond the church walls.
We help our church community develop the spiritual depth and learn the skills to live in a diverse world.
We are an invitational, welcoming community where inclusiveness is a core value.
We are a reconciling community, in which LGBTQ persons and their families are actively welcomed.
As individuals and as a church community, we will reach out with open minds and hearts to build social justice."
At Campbell UMC, your friendship is valued and safeguarded. You are accepted for who you are. We consider ourselves all one church family, every leaf on the tree!
Being a Reconciling Congregation means we welcome all persons as Christ did regardless of age, race, gender, sexual orientation, cultural background, physical or mental health ability, family status, or financial circumstances.
We want all people, including gay, lesbian, bisexual, and transgender persons and their families to feel welcome here and part of our family.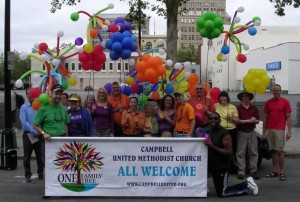 Would you like to know more or become involved?
Please contact the Reconciling Congregation Committee leader at reconciling@campbellunited.org
Also see the  Campbell UMC Facebook Reconciling Page

Our Statement of Reconciliation
Campbell United Methodist Church
We are a member of the Reconciling Ministries Network (RMN). Along with the RMN, we affirm the vision of the Methodist Church to be one of Open Hearts, Open Minds, Open Doors.
Our vision is consistent with the mission statement of The United Methodist Church "to make disciples of Jesus Christ" and the direction of the Council of Bishops which adds "for the transformation of the world".
As Reconciling United Methodists we can say "We are United Methodists of all sexual orientations and gender identities making disciples of Jesus Christ for the transformation of the world."
For additional information about the
Reconciling Ministries Network, click on the link.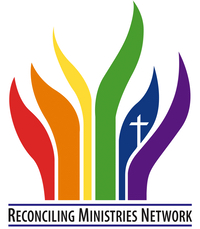 Save
Save
Save
Save
Save