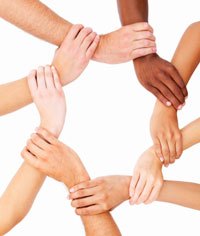 There are many ways to connect with others in and around this church. Find a ministry that calls to you, people who will support your spiritual journey, or a class that will deepen your faith.
For more information about and contacts for the following services and activities for younger children, please click the YOUNGER CHILDREN link above.
We have two new after-church programs available for children:
For younger children, supervised play is available on the
Bright Days playground.
For slightly older children (up to middle school), there will be
soccer coaching & skill practice
on the lawn between Fellowship Hall and the Education Building
every Sunday: 11:15am to noon
.  Girls and boys welcome!
Sunday School
Sunday school classes are available for children 3-18 years old on Sunday mornings.
Find the registration form for Sunday School here.
Childcare for Infants and Young Children
Quality childcare in a clean, well-equipped nursery is available during the worship service.
All church-sponsored events have childcare available upon request.
Children's Vocal  and Handbell Choirs
Joyful Notes is the children's choir of Campbell UMC. Their ages range from Kindergarten – 8th grade.
The Diamond Ringers ages range from 3rd – 8th grade.
The Discovery Ringers is another children's handbell group (4th grade +). The ability to sightread music is required.
Bright Days Preschool
This preschool is an independent preschool that serves the broader community during the week.
Bright Days Preschool is a ministry of Campbell UMC.
For more information about and contacts for the following services and activities for youth, please click the YOUTH GROUPS link above.
Sunday School
Sunday school classes are available for children 3-18 years old on Sunday mornings.
Find the registration form for Sunday School here.
4th and 5th Grade Fun Times
Meeting twice a month on Sunday mornings (after service) or evenings, with special activities on weekends.
United Methodist Youth Fellowship (UMYF)
– Group for 6th – 12th graders
Meeting on Sundays at 11:45 am, this program offers an incredible chance for youth in grades 6-12 to practice leadership, engage in community service, get to know each other, and have a great time while they are doing it.
For more information about and contacts for the following adult groups, please click above or on the links within each description.
Groups for Women
Faith ~ Hope ~ Love  in Action
United Methodist Women (UMW) is a community of women of all ages. They gather to support one another's spiritual lives, for creative and supportive fellowship, and to encourage one another to self-giving service in the community and the world.
Women's Bible Study and Discussion Group – meets at 10am every Tuesday in the Fireside Room. This group is a wonderful place to learn, study and discuss God's word, and to enjoy friendship and fellowship. All are welcome. For more information, contact:  info@campbellunited.org
The Gathering of Men has been meeting at Campbell UMC for more than 20 years, discussing faith-related life issues. This group meets the first Saturday of each month 8 – 10am in the Fireside Room.
Two other men's groups offer a community to support your faith, family, health and your friendships, with meeting times in morning as well as in the evening.
Click the link above for meeting times.
Art & Spirit Ministry
The Art & Spirit Prison Ministry began in 2011 with a vision and a handful of volunteers from Campbell United Methodist Church and has now expanded to volunteers from other churches. This program provides opportunities for inmates in Santa Clara County jails to connect with their Spirit through the creative arts. Each session has a spiritual theme and includes art, music, scripture, prayer, writing, and reflective discussion. The classes are offered in units on both the men's and women's sides of the Elmwood jail. They are inclusive and welcome everyone – regardless of spiritual beliefs. Click on the link for more information and contact.
50+ Unlimited is made up of men and women, age 50 and older who come together for fellowship and fun in a variety of activities throughout the year. There is no membership requirement; all are invited. Click on the link above for more.
Prayer Shawl Ministry
The Prayer Shawl Ministry group meets monthly to knit or crochet together and to create prayer shawls that are taken to people who are sick or experiencing loss in their lives. For more information, contact PrayerShawl@campbellunited.org
Book Club
The Book Club reads a variety of works: biographies, classics, novels. It meets during the school year on the 4th Monday of each month from 4 – 5:30pm. Drop-ins are welcome. Contact: info@campbellunited.org
Adult Sunday School (Adult Education)
Adult Sunday School meets in the Fireside Room at 8:50am on Sunday mornings prior to Worship Service at 10am.  See more here, and contact: AdultSundaySchool@campbellunited.org
Sunday Afternoon Bible Study – Currently Suspended (Jan 2018)
Please see Adult Sunday School for Bible Study
This come-when-you-can, homework-optional Bible Study normally meets in the Fireside Room Sunday afternoons from 1-2:30pm.
Seekers
Seekers is a reading, discussion and faith sharing group meeting twice a month. Click on the link above to find out the current book selection and to get contact information.
At Campbell UMC, there are a number of opportunities for participating in worship with the gift of music. There are Adult and Children's vocal Choirs, as well as Adult and Children's Handbell Choirs who all welcome new musicians of all skill levels. For more information, click on the link above.
Contact music@campbellunited.org
RECONCILING MINISTRIES  (LGBTQ)
At Campbell UMC, your friendship is valued and safeguarded.  You are accepted for who you are.  We consider ourselves all one church family, every leaf on the tree!
Being a Reconciling Congregation means we welcome all persons as Christ did regardless of age, race, gender, sexual orientation, cultural background, physical or mental health ability, family status, or financial circumstances.  We want all people, including gay, lesbian, bisexual, and transgender persons and their families to feel welcome here and part of our family.
Campbell UMC is a member of the Reconciling Ministries Network (RMN).  Along with the RMN, we affirm the vision of the Methodist Church to be one of Open Hearts, Open Minds, Open Doors.  Campbell UMC is dedicated to working with RMN, Love Your Neighbor Coalition, and other organizations at the UMC General Conference to change the official UMC stance to include LGBTQ clergy and candidates, and support (as well as perform the ceremonies of) marriage for all people.
Our vision is consistent with the mission statement of The United Methodist Church "to make disciples of Jesus Christ" and the direction of the Council of Bishops which adds "for the transformation of the world".
As Reconciling United Methodists we can say "We are United Methodists of all sexual orientations and gender identities making disciples of Jesus Christ for the transformation of the world."
For more information, click on the link above.  Contact reconciling@campbellunited.org.
Welcome, Brothers and Sisters in Christ – no matter how far your journey has brought you, the welcome here is warm and loving. You will find friendship, familiar faces, new connections, and a broad network of support.
The African Fellowship worships weekly at 10am with the whole congregation and also gathers for worship, friendship and food once a month. Children and youth participate in worship, Sunday School and at youth fellowship.
For more information, contact Pastor for African Ministries Daniel Gbundema at pastorgbundema@campbellunited.org
Save
Save