_____________________________________
26 April 2017                                                                                                                                          PDF Version
Letting Go

Letting go can be difficult—very difficult!  Movies, plays and other forms both of entertainment as well as news are rife with stories of people who must cope with loss.  Sometimes, as in the death of someone we love, it is or at least feels like an experience of total loss of meaning, hope and even safety.  At other times the difficulty has more to do with crushed expectations—as when a well-respected student leaves school before graduating or a deeply trusted person does harm to one of our children and we must "let go" of the friendship and protect our children.
There are other ways that we experience loss in our day-to-day lives.  You know them at least as well as I do because we have lived through these sometimes life-changing events either directly or by watching others endure loss.  An innocent 3-year-old child is diagnosed with an incurable disease.  One of the parents of four children, all under the age of 7, dies in a car accident leaving the remaining parent to cope with a job, a home, four children and the question of how they can manage day-to-day life much less their grief and their children's grief.
How is it possible to "Let Go" in such complex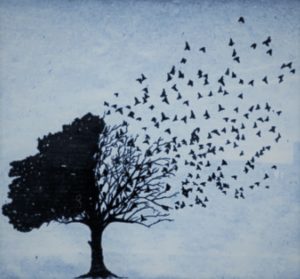 situations?"  It really is not that easy to do so.  In fact, retelling the story of our loss over and over again is an important part of "Letting go" of trauma, pain or any loss of control over our bodies, our minds and souls.  We may talk about it openly and so frequently that our friends and family lose patience with our continual grieving.  Some might even get so annoyed that they tell us to "Get over it!"  As you might imagine, that can drive a grieving person into repressing their grief so that they can be more socially acceptable.
A senior hospital chaplain (Rev. Dr. Myron Madden) came up from New Orleans all the way to Bangor, Maine (in 1979) to lead an all-day seminar on pastoral care in difficult situations of loss.  He told students, clergy, clergy spouses and other healthcare professionals that to let go of suffering, to really begin to heal from it, requires that we have people who will listen to us without judging us.  People who can do this are not easily found.  Nor do the listeners always have the stamina to listen to the tale of our loss while not offering advice to "fix" us.  It's possible to get so exasperated with a person's story of grief that we say, "Oh, for heaven's sake!  You have been talking about this (loss) for months.  It's time to move on!"
As I write this blog I am just in the second week after Easter.  Already the cries of "crucify him" have faded into the background noise and hurriedness of our daily lives.  Even the tears of the people closest to Jesus, Mary his mother, Mary Magdalene his friend and disciple, Peter, the one He chose to lead the early Church, and the "beloved disciple" had long since dried at this point following Jesus death.  They had to go on with living despite their overwhelming loss.
Even now in the 21st century, if we immerse ourselves in the Gospel stories of Jesus' betrayal, torture, crucifixion and death, we may be overwhelmed at how much he suffered loss for all of us.  The reality is that when we suffer we are more likely to be accepted by friends, family and colleagues if we don't tell people that we are suffering.  "Laugh, and the world laughs with you.  Cry and you cry alone," said my father.
It is almost as difficult to forget that injunction as to forget the experience I had as a pastor over 25 years ago in northern Vermont.  One of our long-standing church members was clearly dying.  After I had visited and prayed for a peaceful death with her, I asked a couple who had been her friends for many years to go to her hospital room even if it was only for a few minutes.  They refused.  When I asked why, the husband of this couple replied, "We would rather remember her as she was."  Whether she ever realized how unwilling her "good friends" were to visit her I did not ask.  There is no virtue in remembering someone as they "used to be" if we don't at least come and offer to listen and even to pray with them "as they now are."
To many of us the words "Let go and let God" are very familiar.  We've read books about addiction, codependency, group counseling, being "good to ourselves," setting limits on how much we try to do, etc.  These books may help, but we need the courage to suffer with others rather than stand at a distance so that we can remember them as they used to be.  That kind of courage is best grounded in faith in God and in God's love for us and for the person who is suffering.
"Letting go" of our own burdens, whatever they are and wherever they come from requires support.  We don't easily "let go" of certain substances, old hatreds, fears or unpaid debts, whether financial or social.  We may not want to remember why we resist even the suggestion to "Let go and let God" be in charge.
We can decide to stay this way.  It won't be helpful, but we can continue unaware of why we don't "Let go."  Or we can decide to be renewed by letting go of our need to be in charge and by trusting God to be in charge.  One of the strongest motivations for me to continue in the process of healing from my need to control is the example of how Jesus "Let go and Let God."  You will find it in Luke 23:34a.  It's where Jesus prayed for the people who caused his suffering and death.
That is the greatest example of "Letting go and letting God" guide him that I have ever encountered!  May our faith in God and in God's Son, Jesus, continue to grow so that we willing to do the same.
As ever, if you want to discuss what I've written, please feel free to call or email me at:  cirrider@att.net
– Rev. Larry LaPierre     4/26/17
_____________________________________
16 March 2017
Praying For Our Enemies
Not praying for our enemies benefits no one—absolutely no one!  Then why don't we pray for them?  Perhaps you wonder how I know that we don't pray for our enemies.  It's a fair question.  I don't know—not for certain.  However, I do have one consistent observation based on 65+ years of worshiping in many churches in several denominations.  I have not, until the last 3-4 months, found anyone who stated during worship that it was important to pray for our enemies.  Most people, when I've asked, do not admit to having an enemy.  Those churchgoers who do admit to having an enemy focus on avoiding them.  In the worst scenario, however, some are so consumed with a desire for revenge that little else matters.
It's important to be clear about why our "enemies" need our prayers.   Regardless of where they come from, they are not born to be enemies.  That is learned behavior.  A child learns, both at home and in the world at large, what to fear and who the enemy is.  A child's growing sense of who are the safe people and who are the not safe people to be near can be formed early in life.  A simple definition of an enemy is one who is not safe to be near for whatever reason.
Once we decide that a person, a group or even an entire nation is not safe to be near, we don't just walk away.  We still are responsible for how we treat the person, group or nation that threatens us.  I was taught to fight back at anyone who was an enemy at the age of 9…
_____________________________________
16 February 2017
Do Not Fear, and Still We Do!
Why are we afraid?  Oh, who says that we are all afraid?  For that matter, what do I mean when I used the word "Fear?"  Is it really all that important to discuss in this format (a blog)?  Let me answer the questions in the order I asked them.
Why are we afraid? I believe that being afraid is the appropriate when something big enough to eat us is chasing us.  In other words, it has genuine survival value!  I suspect that unless we are straying too close to the cage of some enormous shark, maybe a huge alligator or step into a pond filled with piranha fish we're not likely to become some creature's meal.
Who says that we are all afraid? Count me in as one of the people who admit that I have experienced fear several times in my life.  However, sometimes we get so frightened about our well being, that of someone we love and even that of our nation that we don't know how to cope.  We either cannot or will not believe that the situation if as bad as it is.  So we search for a way to cope.  One of my favorite ways to cope (I have several) is to either pretend that something awful did not happen or will not happen.  On a trip back to Maine 20 years or more ago, I said that I wanted to see a pastoral friend named "Ralph."  Jane listened and then sadly reminded me that "Ralph" had committed suicide the previous year.  I had been too afraid to admit that he suffered that much.  I may have felt some guilt or sadness at not being there to help him…
_____________________________________
6 January 2017
Resolutions & God's Grace
It's that time of year again. From New Years Day to roughly the end of January many of us make promises that we suspect will not be easy to keep. Still, we make them. Why? There are lots of reasons. Maybe our doctor convinced us to lose weight, exercise more, relax or develop a hobby. We may have decided to be free from an addiction, a dysfunctional relationship or some other burden.
How do we know that we won't have an easy time of it? Well, some of us have been down this road before. We make promises to God, to our spouse, our doctor and to whomever else we trust to hold us accountable for our promises or resolutions. Some of us, however, don't ask God what God wants from us. As a result we may demand much of ourselves in places where God is not asking us to change. We're at high risk of failing. Here are a few examples…
_____________________________________
20 December 2016
Why Doesn't Prayer "Work" All the Time?

Many of us have grown up with the belief that all we have to do to have whatever we want is to ask God for it in prayer.  We may learn this in Sunday School, youth group or worship.  Often this amounts to giving a "to do" list to God.  We might have read or even memorized, the verse from the Sermon on the Mount that sounds like a proof text for that view.  It's Matthew 7:7:  "Ask and it will be given to you; seek and you will find; knock and the door will be opened to you."  Reading further into the New Testament we encounter John 14:22 where Jesus is quoted as saying, "You may ask me for anything in my name, and I will do it."
So, what's the problem?  Why doesn't prayer work all of the time?  We need to remember to whom it is that we are presenting our needs and desires.  This is not like petitioning a judge, a college admission committee or even the manager of a company from which we need a donation for a charitable cause.  We are seeking a response from God.  Not to put too fine a point on it, but in the Hebrew Scriptures (Old Testament) God is often referred to as "El Shaddai" which translates as "God Almighty."  There are lots of other ways of addressing God, but it helps to start with a sense of awe linked with an equally deep sense of humility when we expect the All Mighty God to listen to us!  God will listen.  We just need to remember that we are a small part of creation, and God is the Creator of all.  Otherwise, we won't be even remotely prepared to pray…
_____________________________________
16 November 2016
Peace: What Is It? How Does It Develop?

Peace is something that many of us say that we want.  We may differ, however, over just what it is.  Some of us, thinking on a global scale, imagine peace as the natural result of stopping all wars.  Indeed, that would be a huge step towards a healing process.  But peace is more than just not killing people whether in foreign countries or on the streets of our own cities.  It is far more than an armistice (think November 11, 1918) or other cessations of hostilities (think of the end of our Civil War and of the end of the fighting in Northern Ireland).  Was peace the outcome of either of these and many other cessations of fighting?
Sometimes we settle for much less than peace when we stop fighting.  We leave issues unresolved hoping with time that somehow whatever drove us to fight will go away or be ignored or suppressed.  Whether it's a war fought abroad or a struggle within a family, we need to do much more then cease the hostile attacks although that is usually the first or second step.  We need an inner healing that enables us to either begin or return to the path to inner peace—that is, peace that we first experience within ourselves as spiritual people and then share.
Peace begins when we take time to contemplate what is broken or dysfunctional within us.  We may discover that we need to heal from whatever isn't at peace within us before we can have the energy to develop our own inner peace.  Counseling, pastoral care, the encouragement of friends and others who understand our suffering can be invaluable…
_____________________________________
16 October 2016
Render Unto Caesar

For those of you who may understand the Bible to be an old and almost useless group of stories that can't possibly deal with 21st century politics, look again! We are seeing some intense struggles for leadership of this nation especially at the top of the ladder of power.
Seldom have I seen more obvious examples of how the Bible speaks to 21st century issues than when Jesus addressed the question about whether to pay taxes or not (Matthew 22:15-22). When some of the religious leaders of his time asked him whether it was lawful to pay taxes to the (Roman) government, he asked for a coin of that government. After inquiring as to whose image and whose title was on the coin, the religious leaders had to admit that it was that of the emperor—Caesar. His reply was simple, direct and obvious once he had answered the question: "Give to the emperor the things that are the emperor's and to God the things that are God's." (Matthew 22:21)1
This question of taxes is of concern to generations of people. However, the answer given by Jesus raises both religious and moral concerns that go beyond simply paying one's taxes. Then as now we face troubling concerns about the inappropriate uses of political and personal power. It is, as has become all-too-apparent recently, an issue that transcends our hesitancy to mix politics and religion. It provides reason to wonder how far our government is prepared to go in securing information about individuals. Do we really believe, for example, that it is OK for the government to monitor some worship services?…
_____________________________________
28 September 2016
Recovering From Spiritual Abuse – 1

As I consider the implications of the title of this message I realize that many of us do not think about spirituality as something that can be abused.  Even after we have endured significant suffering because of the person we sought out for spiritual guidance is not capable of helping us to heal.  We may, even unconsciously, make choices that hinder our spiritual growth.  We may remain angry at a church that expected us to believe what we could not believe.
We may, indeed, have survived and managed to cope with the rejection that we experienced in that denomination.  But how are we coping?  Are we holding it all in?  Are we talking about it so much that hardly anyone is listening?  Have some of us turned to substances like alcohol, narcotics, street drugs or food to help us to cope with our problems and not realized the risks we are taking?
How ready are we to recover from our spiritual wounds?  How committed are we to work together if we've been wounded as a congregation?  "Recovery" is a term usually associated with substance abuse (i.e. alcohol, narcotics, food, and other drugs).  This came to mind as I reread a blog written by our older son almost a month ago.  Jim operates a counseling center.  He blogs weekly on issues related to recovery from substance abuse…
_____________________________________
7 September 2016
What is Truth?
Many of us remember the question, but we may not remember where we heard or read it.  It's in the Gospel of John (18:38a) when Pilate responded to Jesus' statement "Everyone who belongs to the truth listens to my voice." (v. 38) Of course, we may not accept this definition because it is so dependent on who Jesus is.  Truth comes from listening to Jesus.  Do we really want to go there?
Many of us are satisfied with what we learned about truth as children.  We are content to believe Truth means not lying.  Not lying, in turn, requires revealing exactly what we know—no more and certainly no less. It also includes not making up stories about things that never happened.
As we get older we learn that "telling the truth" includes revealing whatever helps others to understand the true situation even when we are not directly asked about it.  In courtrooms witnesses are asked if they will "tell the truth, the whole truth and nothing but the truth." We have politicians, among many other groups, who struggle to live by even the simplest requirements of telling the truth…
_____________________________________
18 August 2016
Internal Disarmament
By the time you read this blog two months will have gone by since the Dalai Lama addressed the California State Legislature.  He spoke simply, clearly and to the point.  I am still stunned by one of his observations.  As he addressed several issues that are important to our nation he turned to gun control.  He expressed a belief that may be difficult for many of us to accept.
When I did an Internet search on the Dalai Lama's speeches, I found his "Message for the New Millennium." He noted there, and to the California Legislature, that violence is a major problem for the world.  We can probably all agree on that. However, he identified an aspect of violence that we may not all agree on.  He wrote, "In order to make non-violence a reality we must first work on internal disarmament and then proceed to work on external disarmament.
By internal disarmament he did not mean that a country should get rid of all of its weapons in one dramatic sign of its desire for world peace.  He meant ridding ourselves as persons of all the negative emotions that result in violence."
_____________________________________
3 August 2016
Living Simply
There is a saying attributed to a group of Christians known as "Mennonites" that is startling in its implications.  It is, "Live simply so that others may simply live."  If taken seriously by a large number of us it could change the way our economy and even our government at all levels function.   Many of us would stop worrying about the latest move by the Federal Reserve Banking system as it affects the dwindling interest on our savings.  We would not obsess over the latest clothing styles just to keep us with some designer's idea of what we should wear.  We might even give up hope of ever saving enough to live as well in retirement as we did when we were employed.  Instead, we would pay more attention to knowing and helping to meet the needs of our neighbors now.
_____________________________________
18 July 2016
Control – Who Has It & Who Doesn't?
Given recent events (i.e. June-July 2016) it is worth asking, "Who really is in control?"  You might want to ask, "Control of what?"  That is a fair question, and the answer at first seems to be quite simple:  "Anything!"
Almost anywhere I look there is a problem of control.  Sometimes it is visible in a relationship.  One person gets his or her way in so many social and private situations that observers realize, even if the two people don't, that one of the two is more in charge of what happens than the other.  Sometimes it is happening in what is supposed to be a loving relationship.  Others times relationships are more superficial and are based on providing a service, such as an employee and an employer.  We see control issues played out in every kind of relationship from spousal abuse and child abuse to those who betray the trust of their students or their employers.  We also have noticed it in the ongoing reality that women with skills and knowledge equivalent to men are paid significantly less and have less access to the top corporate jobs than men…
_____________________________________
6 July 2016
Spirituality Amongst the Suffering

For over three decades there has been an ongoing struggle between those who follow the teachings of their religion and those who find religion to be either irrelevant or an actual obstacle to spiritual growth.  Religious people often don't understand those who walk a spiritual path.  Those who walk a spiritual path have often given up on religion.  I have walked both paths, and I still do.
It's when I try to reconcile my personal spiritual path with either some of the teachings or the misadventures of the Christian Church as a whole that I encounter problems.  I feel cut off from people who keep their religion walled off in their house of worship and refuse to engage the world.  Then there are those of us who would rather work hours or even days on a project that helps somebody than sit quietly for 5-10 minutes twice a day to listen to what God or our Higher Power is saying to us.  It is not an either/or position.  We can do both.  We don't need to limit our search for God to either a specific religion or a particular approach to spirituality…
_____________________________________
19 June 2016
Living By the Sword
At the end of a worship service that I had led a person asked me, "How do I love a "________"?  She named people who belong to a very specific non-Christian religion.  I was stunned for a moment since we were both Christian believers.  It was clear that she was embarrassed at having to ask the question.  It was equally clear that she was afraid of anyone who belonged to that non-Christian faith group.  She was clearly defensive, but she trusted me enough to at least ask her question.
How do we get so frightened of people we don't know who have not threatened to harm us?  Why do we not know how to love all of God's people including those we perceive to be different from us?  Of course, the obvious answer is that we divide all of humanity into either "Us" or "Them."  We trust those who are like "Us" and fear "Them."  Still, as a Christian pastor I was shocked that this division had reached so deeply into her.
However, it was hardly the first time that I had seen Christians do this…
_____________________________________
2 June 2016
How Do We Love the People We Fear?
At the end of a worship service that I had led a person asked me, "How do I love a "________"?  She named people who belong to a very specific non-Christian religion.  I was stunned for a moment since we were both Christian believers.  It was clear that she was embarrassed at having to ask the question.  It was equally clear that she was afraid of anyone who belonged to that non-Christian faith group.  She was clearly defensive, but she trusted me enough to at least ask her question.
How do we get so frightened of people we don't know who have not threatened to harm us?  Why do we not know how to love all of God's people including those we perceive to be different from us?  Of course, the obvious answer is that we divide all of humanity into either "Us" or "Them."  We trust those who are like "Us" and fear "Them."  Still, as a Christian pastor I was shocked that this division had reached so deeply into her.
However, it was hardly the first time that I had seen Christians do this…
 _____________________________________
17 May 2016
God's Opinion – part 1

Quite a number of my former parishioners liked the image of church as a "Filling station".  They saw it as a place to come and be "filled," as if we were cars.  They were not trying to avoid God.  It was quite the opposite!  They wanted to get just close enough to God to get "filled" with whatever they needed to cope with the world until next Sunday.
What they did not want was for the preacher to make life more complicated.  One of the ways that some of us preachers make like complicated is when we try to help people recognize that God has an opinion about everything.
Maybe you want to remind me that God does not have opinions.  God has the Ten Commandments (Exodus 20 & Deuteronomy 5)
to guide our behavior.  As long as we follow those we will be good Christians.  Isn't that true?  No, actually, it isn't.  It is more than possible to faithfully live by the Ten Commandments and not be a Christian…
_____________________________________
2 May 2016
God and Women – part 1

Perhaps it wouldn't happen in our homes.  It probably wouldn't happen while we are outside working on our gardens or while shopping.  However, it might happen in church that someone would ask us, "What does the Bible say about the equality of men and women?"
How would we answer?  It might be tempting for us to give them a simple answer such as "God loves everyone.  Therefore, God loves women and girls as much as men and boys."  That might be enough to satisfy the questioner.
However, it's not enough to answer the question and assume that is the end of the matter…
_____________________________________
18 April 2016
Coping in an Unsafe World
The world is not safe.  We already know that.  We are vulnerable to everything from car accidents, home invasions and fraud to human trafficking and war.  Every day we face problems that we or others created.
Some years ago I was consulting with a psychiatrist who was a colleague at the VA hospital.  I made some comment about a patient who tended to use denial to avoid facing whatever he didn't want to face.  "Jerry" replied, "We all live in a state of denial.  If we didn't, we wouldn't get out of bed in the morning."
Jerry was right.  Nobody gets out of bed thinking that a tree might fall onto the house where he or she lives.  Nor do we wake up thinking "This might be the day that I get a diagnosis of an untreatable disease."  Even less likely are we to awaken wondering whether a terrorist will set off a nuclear weapon in our city.
_____________________________________
31 March 2016
 Reflections on Darkness and Light Following Easter
In a world where many ordinary people work hard to serve God daily, there are also terrorists, street gangs, rebels and even nations that focus on agendas that have little to do with God's plans.  Given the opportunity to seize power they justify the use of many harsh tools to punish, to dominate or to destroy.  Kidnapping, torture, targeted killing, denial of basic rights to women and others are favored tools for everything from a small cell of terrorists to some nations.
I know that I should be much optimistic since I write this just a few days after Easter—the most important day of the Christian year.  Holy Week and Easter are reminders of God's ongoing love for everyone.  Yet, somehow it's not enough for many of us.                                                                                       Read more…
_____________________________________
18 March 2016
Evidence of a Christian Life

Recently one of our better-known candidates for president declared that he is a Christian. It didn't take long for his critics to question the accuracy of his self-portrayal. Among those who objected to his claim to follow Jesus were those who pointed to specific examples of the candidate's behavior, which they viewed as inconsistent with living as Jesus called his followers to live.
Before jumping into a fray like this one, it's probably more useful to look at our own lives. We need to ask ourselves and our pastors, "What does a Christian lifestyle look like?" Another way to ask the question is this: "If you (or I) were arrested today for being a Christian, would there be enough evidence to convict us?" I've wrestled with this question for a long time.                                                                                         Read more…
_____________________________________
2 March 2016
Don't Worry!
I take the Bible very seriously as I try to understand how God is at work especially in stressful situations. I rely on the guidance of Christian Scriptures to help me understand my search for meaning, purpose and direction in my life. On the other hand, I sometimes run up against verses or whole chapters in the Bible that just don't make sense.
One of my ongoing struggles with the Bible is in the Gospel of Luke. In chapter 12 from verses 22 to 34.  It can be summarized as "Don't worry" or "Don't be afraid." Do you remember when Bobbie McFerrin had a hit song entitled "Don't Worry Be Happy?" (Released in 1988)  I remember liking the music and being very critical of the message.  I knew at some level that I wasn't going to be happy if I didn't deal with my worrying.
How is it possible to "not worry" in the modern world?…                                                            Read more…
_____________________________________
18 February 2016
While We Are Preparing For Easter

Imagine that instead of giving something up for Lent we decide to take on a new way to serve God's people or to raise a question about God for which we have no clear answer. Well, that's what I did. I took on a question for self-study this Lent that I have not been able to make complete sense of for at least the last 36 years. "What does Jesus and all those who translate and otherwise communicate God's Word to us mean when they refer to the kingdom of God (Luke 6:20) or the kingdom of heaven (Matthew 6:20)?"
To some of us it may seem like an easy question. We might respond that the "kingdom of God" or perhaps even the "kingdom of heaven" is wherever God is. Yes, I agree. More importantly, the previous spiritual leader of over a billion of our sisters and brothers in Christ, Pope John Paul II, announced this as his understanding of heaven several years ago.
I would have been happy to stop with his answer…                                                            Read more…
_____________________________________
12 February 2016
Lent is Upon Us!

Once again the Lenten season is upon us. Knowing that I am a Christian you might wonder what I am "giving up" for Lent. It's an appropriate question, but first I want to ask, "Why do need to give up anything?" What is the point of giving up something that we enjoy, are dependent upon or even addicted to if we are just going to resume this experience on Easter Sunday?
As Pastor Kathi (Campbell UMC) pointed out in Sunday's "Lent 2016" bulletin insert (2/7/16), "fasting is only a spiritual practice if it brings you closer to God; otherwise it's a diet." "Fasting" can, depending on how we define the word, can include everything from a total fast once a week to "fasting" from one's favorite beverage, food or dessert.
When I was a child I sometimes considered "giving up" candy for Lent. It was supposed to be good preparation for the events of Holy Week…                                                            Read more…
_____________________________________
25 January 2016
A Closer Walk With God
Most people whom I've met in church seem to have some clarity about what they believe about God, the two great commandments (Love God . . . and love your neighbor as yourself), faith, hope, love, sin, forgiveness, worship and the Bible. We aren't always happy about what we believe, but we have some idea of what being a Christian person in the 21st century is about.
There are, however, some of us who feel like there must be more to being on a spiritual journey than what we already know and do. In my experience, there is. Along with what we believe and then do, we also have reason to ask how this all relates to God's presence in our lives.
Yes, I know that we are tempted to do as much as we can to help others…      Read more…
_____________________________________
11 January 2016
Forgive Us?
To the modern mind the Bible seems out of date. Some may have decided that it is even irrelevant to the "pursuit of happiness." At the risk of sounding like I am completely out of touch with modern reality, I encourage you to use the Lord's Prayer daily if not several times a day. It is a remarkable, Biblically based if sometimes troubling prayer.
Troubling? Why should a prayer that Jesus gave to his disciples that has survived for nearly 20 centuries be troubling? Well, there is more than one answer to that question…     Read more…
Save
Save
Save
Save
Save
Save
Save
Save