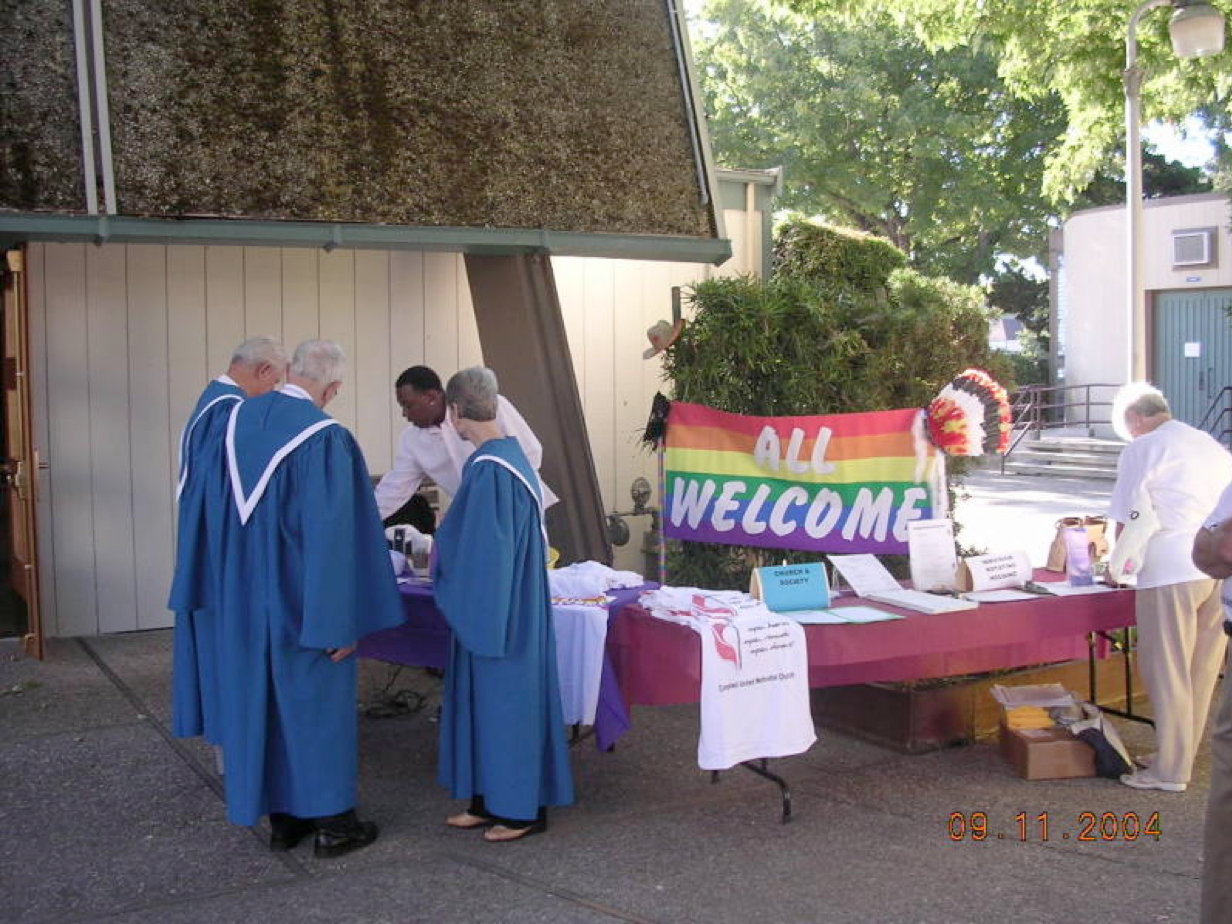 A Reconciling Congregation - ALL are Welcome Here!
The Creed at Campbell United states,
"We are the Campbell United Methodist Church, people reaching out, with open minds, souls and hearts
Nourishing Spirituality
Engaging Creativity
Building Social Justice
Providing loving, welcoming community
- for Christ and the World!"
When we say that we are Building Social Justice, what does this involve?
"We are doers, with a commitment to engage and serve people in the world beyond the church walls.
We help our church community develop the spiritual depth and learn the skills to live in a diverse world.
We are an invitational, welcoming community where inclusiveness is a core value.
We are a reconciling community, in which gay/lesbian persons and their families are actively welcomed.
As individuals and as a church community, we will reach out with open minds and hearts to build social justice."
At Campbell UMC, your friendship is valued and safeguarded. You are accepted for who you are. We consider ourselves all one church family, every leaf on the tree!
Being a Reconciling Congregation means we welcome all persons as Christ did regardless of age, race, gender, sexual orientation, cultural background, physical or mental health ability, family status, or financial circumstances.
We want all people, including gay, lesbian, bisexual, and transgender persons and their families to feel welcome here and part of our family.
Would you like to know more or become involved? Please contact the Reconciling Congregation Committee at http://www.campbellunited.org
Our Statement of Reconciliation
Campbell United Methodist Church
We are a member of the Reconciling Ministries Network (RMN). Along with the RMN, we affirm the vision of the Methodist Church to be one of Open Hearts, Open Minds, Open Doors.
Our vision is consistent with the mission statement of The United Methodist Church "to make disciples of Jesus Christ" and the direction of the Council of Bishops which adds "for the transformation of the world".
As Reconciling United Methodists we can say "We are United Methodists of all sexual orientations and gender identities making disciples of Jesus Christ for the transformation of the world

For additional information about the Reconciling Ministries Network, click on the link.