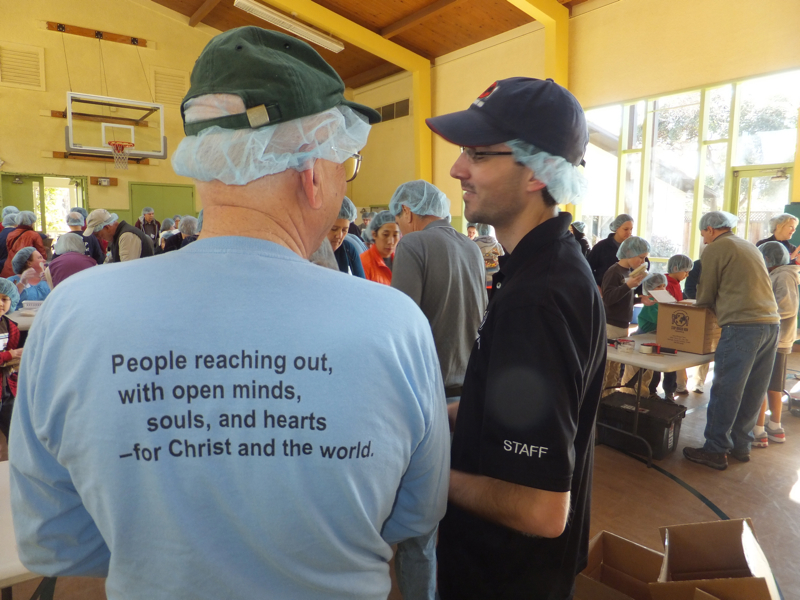 Stop Hunger Now! - Coming Together for a Common Cause
Story by Gail Jacobs
Photos by Dave Foyle
On January 12, 2013, Campbell UMC joined forces with Stop Hunger Now (SHN) (www.stophungernow.org) with the goal of bringing together 40 to 50 volunteers to package 10,000 meals in two hours. But in an extraordinary outpouring of support, more than 120 people showed up on a Saturday morning ready to work! The result was 10,212 healthy meals packaged in around 90 minutes. The meals will be distributed to those throughout the world who are in the greatest need.
Carol and Don Laucella, members of Campbell UMC's Church and Society committee, attended a similar event held at Los Gatos UMC. After participating, they were eager to help bring the event to Campbell. What captured Carol's interest were the statistics. "We produce enough food to feed everyone alive today and yet 25,000 people die every day from malnutrition-related causes," cites Carol. "That stuck with me. When Church and Society asked for a volunteer, I was happy to be the point person. And when I saw the pallet of boxes marked "For Humanitarian Aid" it brought tears to my eyes."
Karen Sanders Noe, Community Development Director-Northern California for Stop Hunger Now, was overwhelmed with the support. "I thought the event last Saturday at Campbell UMC was a very special and wonderful expression of hands-on giving. An unforced spirit of camaraderie and teamwork developed; and together, in a little over an hour, 10,212 meals were packaged for people in desperate need. I was so impressed with the turnout of well over 100 people and everyone pitched in knowing that whatever they did -- package, lift, pour, weigh, or seal -- they were making a difference. We can't thank the community enough and Campbell UMC for hosting this event and sharing their time and talents. Thank you!"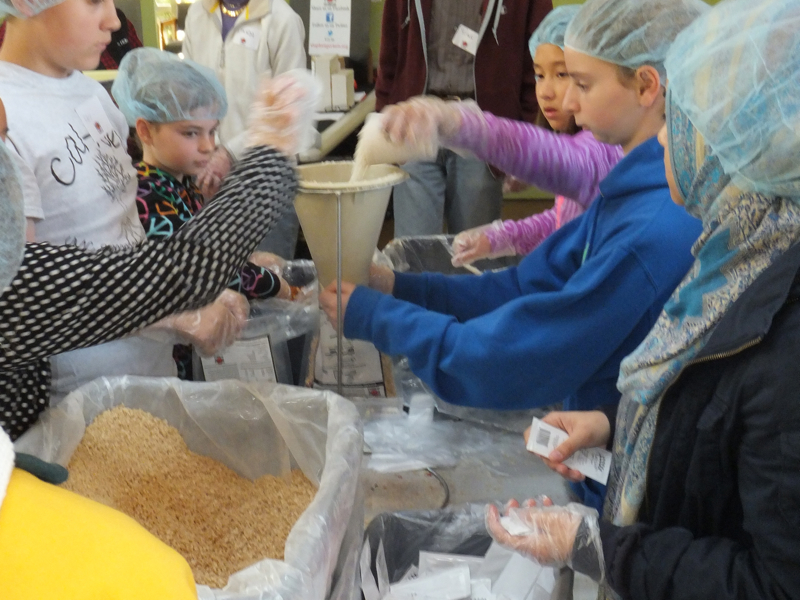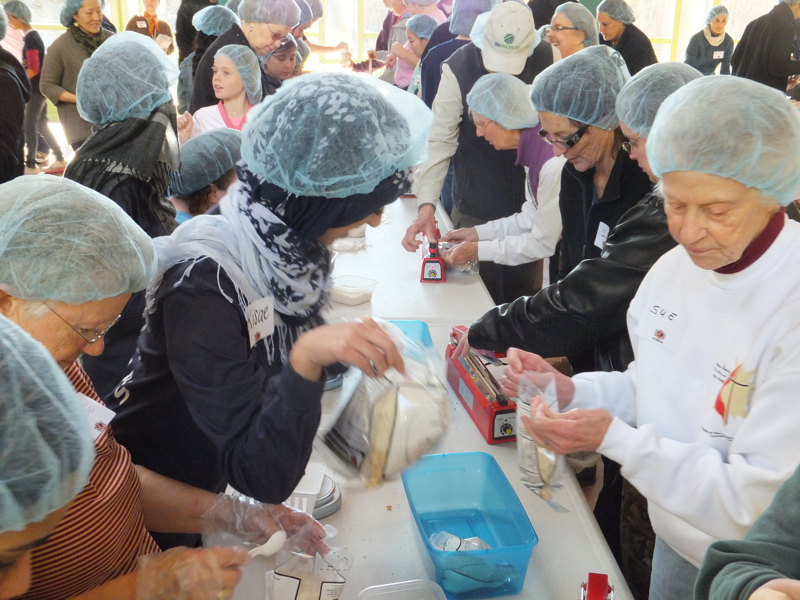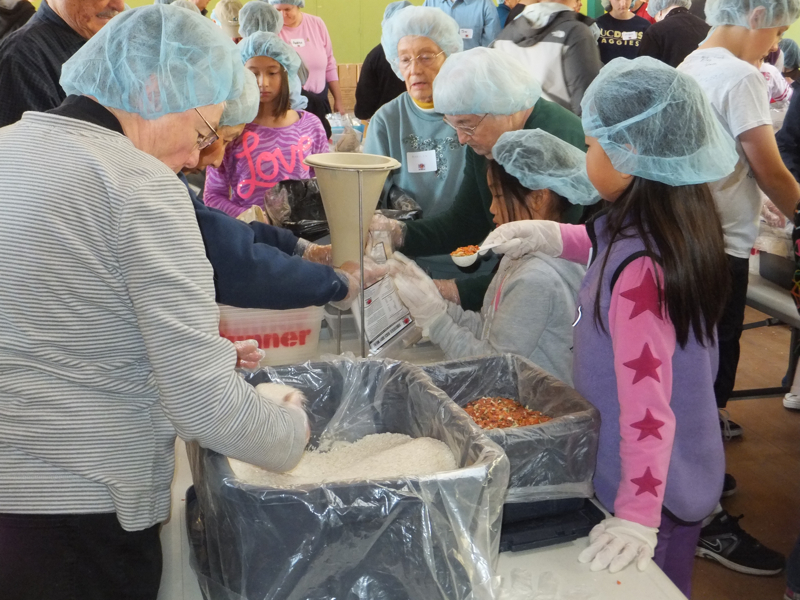 Reverend Dave Wolf, former pastor of Los Gatos UMC, now serves on SHN's Northern California Advisory Board and notes the organization has deep ties to Methodism. He, too, was at the Campbell event, and believes, "Though Stop Hunger Now involves many civic and denominational groups, I think of it as a natural mission for United Methodists; it is simply the sort of thing United Methodists do. It is an opportunity to practice the "good works" we preach. I have been involved in our Volunteers In Missions program since its very inception, and feel every bit the excitement about SHN that I have felt about VIM. Paraphrasing a VIM friend referring to VIM, "'(Stop Hunger Now) is a spiritual experience disguised as work.'"
Before the packaging activity began, Stop Hunger Now Program Manager, Brandon Romano, spent a few minutes educating the volunteers on the importance of their efforts. One of his most profound and enlightening messages was that hunger can be stopped. He said that new statistics indicate the number of people on Earth today who do not have enough food is 820 million, which is generally rounded up to 1 billion people. Brandon assured the group, "Know that today your efforts are making a difference. You are part of the solution."
Brandon went on to explain that one out of every seven adults do not have enough resources to provide enough food or nutrition to fight off hunger or disease. For example, a large bag of rice used at the event costs about $15 to $17 in the U.S. In Haiti, however, that same bag of rice costs $60. Brandon added, "When you earn about $1.00/day, you face a lot of tough choices.We want to make sure these people do not remain invisible in our society. We want these people's lives to change. Your efforts can make a profound impact."
Volunteers gathered around tables to assemble and package the meals, which cost a mere 25 cents per serving. Each package consists of a packet of 21 essential vitamins and minerals, dehydrated vegetables, soy, and rice. These ingredients are poured through a funnel into a small plastic bag, which is then weighed to make sure every bag is within the same range for shipping purposes. One bag creates six full-meal servings.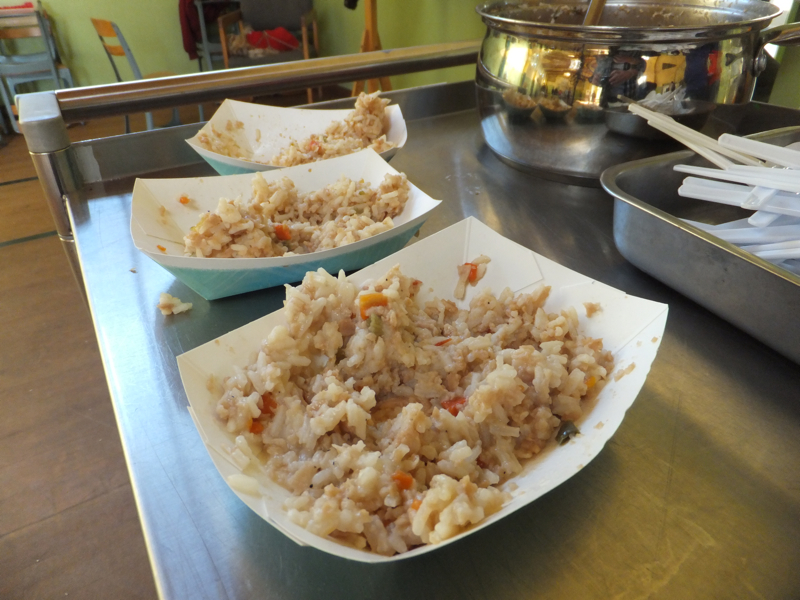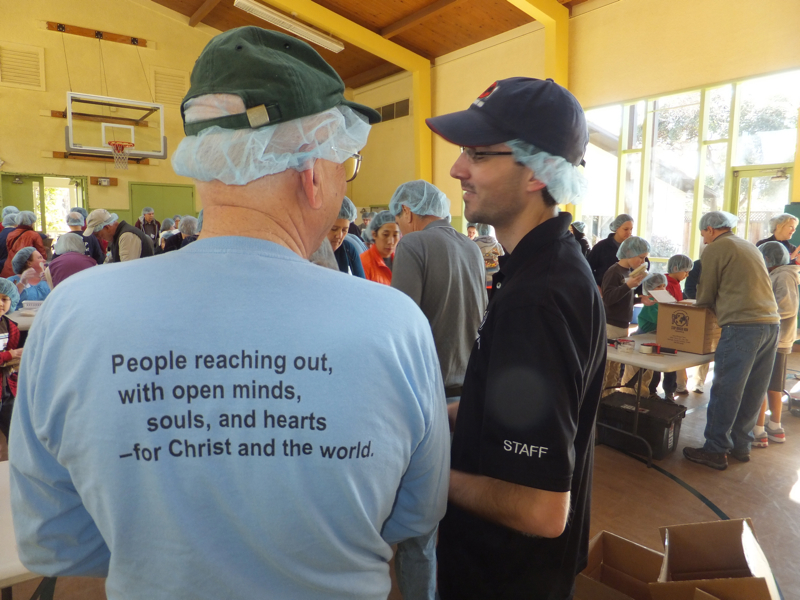 Community Involvement
Church & Society invited various religious groups to participate as a means to create an opportunity to work on a worthy project together – a desire expressed by both Campbell UMC and Muslim groups with which the church interacts. Youth were especially encouraged to participate. Amani, from the Saba Mosque in downtown San Jose, heard about the event through her mosque's youth group and was helping out with several of her friends. She was encouraged to come because she wanted to help others. "We are so blessed and it's nice to give back to others," she said.
Jory, a 7-year-old with New Creation UMC also helped. When asked what he liked about the event, Jory said, "It's great!" When asked what makes it so great, he jumped up and down and with a huge smile, enthusiastically exclaimed, "Everything!"
In what may have been one of the most heartwarming sights in the room was a group of youth – boys and girls, Christian and Muslim, working together in harmony and cooperation. Eliza Hallinan, of Campbell UMC's youth group, brought her friend, Mackenzie. Since they had so many people crowded around their table, they established a relay system so everyone could rotate tasks and have a chance to help. This inspirational group demonstrated quite naturally what is possible and a glimpse into what the future could look like.
Mohse, also from the Saba mosque, commented, "I think this is a great opportunity to be able to mingle with other religious people and people who are willing to help. I hope we can all do this again." Others noted they were there because "it's a good cause," and it was "exciting to see the mix of cultures come together in this room to support a common cause."
A gong was rung every time 1,000 meals were complete. It took about 15 minutes to hear the first gong, which seemed quick. However, as time progressed and everyone got into a rhythm, the time between gongs grew shorter and shorter. Soon the gong rang every 10 minutes and before long it rang every 3 to 5 minutes. Each time the gong rang, the group stopped to celebrate with a rousing round of applause.
Pastor Paul Kim, Campbell UMC, was an active volunteer throughout the morning, and said, "What I loved most about the SHN 'action' at our church was that it connected all of us in Campbell - from the youngest to the oldest - directly, concretely and intimately with hungry school children around the world who would soon be eating the rice meal we packed for them. That truth brought joy and laughter to the action -- and made everyone aware that hunger can be stopped now."
Brandon concluded, "Volunteering with Stop Hunger Now is a fun experience that extends hope to those in despairing circumstances, but it is also an investment in the humanity and dignity of a human life. I am deeply blessed to be able to share a vision of a world without hunger every day. Thank you all again – it was an absolutely fantastic group of people at Campbell."
This type of activity offers the opportunity to make a personal connection with the meal recipients since volunteers actually prepare the packages they receive, and we look forward to learning of the meal's final destination. Everyone got the opportunity to taste the finished product and the unanimous decision was that it was quite good!
Campbell UMC thanks Stop Hunger Now for bringing this event to our campus, and we are also very grateful to the donor who funded the event. And, of course much gratitude and thanks go to the 120+ volunteers who joined in. Our group in Campbell was blessed and happy to join the movement and play a small part in this very important and achievable global vision to stop hunger – Now!