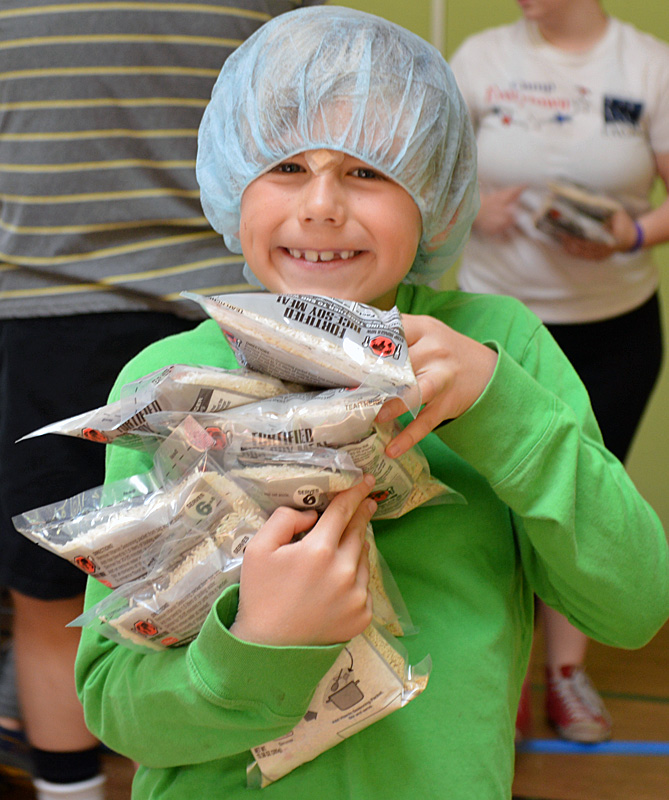 Stop Hunger Now! - Coming Together for a Common Cause
40,505 Meals of Hope – Together, We Did It!
Story and Photos by Gail Jacobs
What a day! What began with one person's idea resulted in more than 275 people coming together to pack more than 40,500 meals for Stop Hunger Now – all within a single day. The Community Service Day event, hosted by Campbell United Methodist Church (UMC), was high energy, fast paced, boisterous and a lot of fun. More importantly, though, it was a wonderful success as ambitious goals to fight hunger were not only met – they were exceeded in all respects.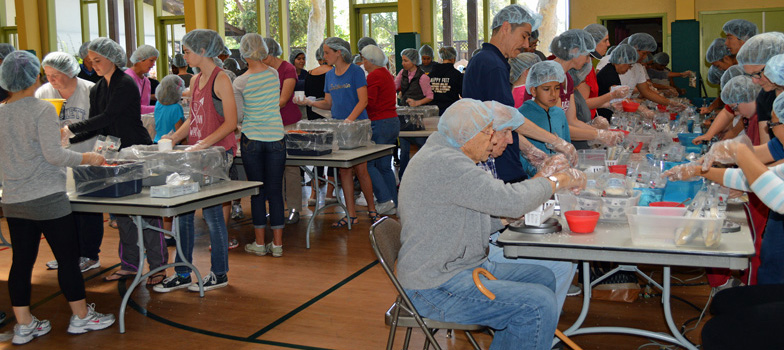 The day began at 6:00 a.m., when a crew began setting up. Campbell UMC Pastor Kathi McShane welcomed each group throughout the day. She noted that when we serve others, not only are we making a difference in their lives but our own lives are enriched. Pastor Kathi encouraged volunteers to get to know someone new and added that being of service is one of the best ways to build community -- and that's what we'd like to do in Campbell.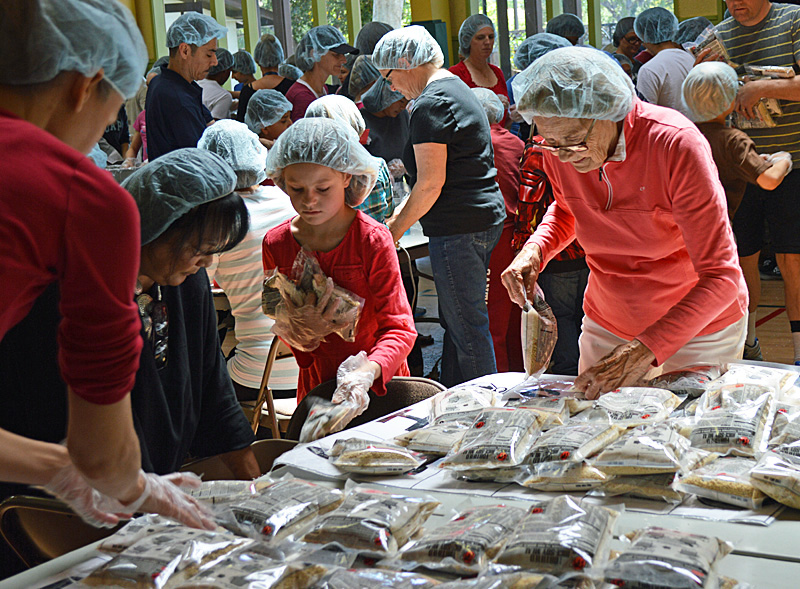 There were four sessions, with 55 to 90 volunteers at each session. The planning team allotted two hours to pack 10,000 meals. The second volunteer group packed 10,152 meals in only 45 minutes! One of the instructions to volunteers was when they heard a thunderous gong sound, they were to stop, cheer because 1,000 meals had just been packaged, and then get back to work! On the periphery, team members were preparing samples of the food so volunteers could taste the meal they were busily packing. Three other non-profit groups were also on-hand to share information about their volunteer opportunities.
The concept of a Community Day of Service event with Stop Hunger Now was introduced by Carol Laucella, who presented the idea to Campbell UMC's Church & Society committee several months ago. Could the church host an event in which neighboring communities would be invited to help pack meals for those who desperately need it most? Campbell UMC has worked with Stop Hunger Now on two previous occasions and it has proven to be a wonderful volunteer activity for all ages and abilities. But had the church ever organized a community event such as this before? Had the City of Campbell ever offered a community volunteer opportunity? Could we raise the funds to cover the event? Could we do it? The answer was, "Why Not!" And the planning began.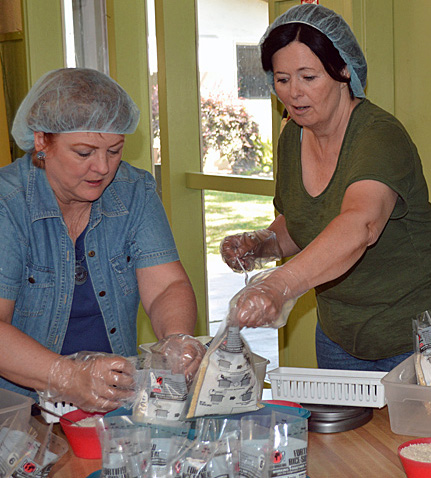 Church & Society took on the challenge and partnered with a team from New Creation UMC. What would seem a lofty and even formidable goal of packing 40,000 meals was set. When the previous interfaith Stop Hunger Now events were held, the volunteers packed 10,000 meals, which seemed pretty impressive. Recruiting at least 200 volunteers to pack 40,000 meals would really be an accomplishment. But if we built it, would they come?
Yes! Volunteers not only came, they came in droves! Campbell UMC member Laura Hallinan promoted the opportunity at Campbell's Del Mar High School, where she teaches English Literature and is involved in several leadership groups, including the Key Club. More than 50 Del Mar students came, and they didn't just stay for one two-hour session. Several stayed for all four sessions and they never seemed to slow down! Some brought friends and their families to join in the event. The church's 4th-5th grade classes packaged meals and 30 youth group members signed up to help. Other groups, including a Girl Scout troop, also helped. Church members brought neighbors and friends. Ultimately, more than 200 members of the community—people not previously connected with the church—joined this community-wide day of service; and they experienced firsthand a caring church that extends its reach beyond its doors, engages others, welcomes all, and actively makes a difference in the world.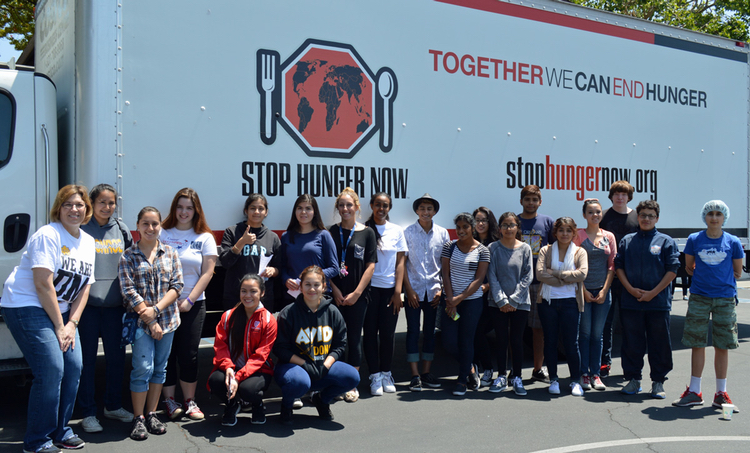 Del Mar student, Jovanie, came with his mother and twin sisters, Emma and Emily, 9 years old. The girls thought the event was "cool" and "fun." They liked helping other children and "wished they could do it all day." Jovanie volunteered at Del Mar before but had never done something that extended beyond school boundaries. He was surprised to learn that six people could live off a small bag of food. Jovanie and his family helped most of the day and were among the last to leave, making sure the Stop Hunger Now representative was able to securely pack the truck before driving back to their warehouse in San Leandro. All the students worked tirelessly and created an atmosphere of enthusiasm that permeated the Fellowship Hall.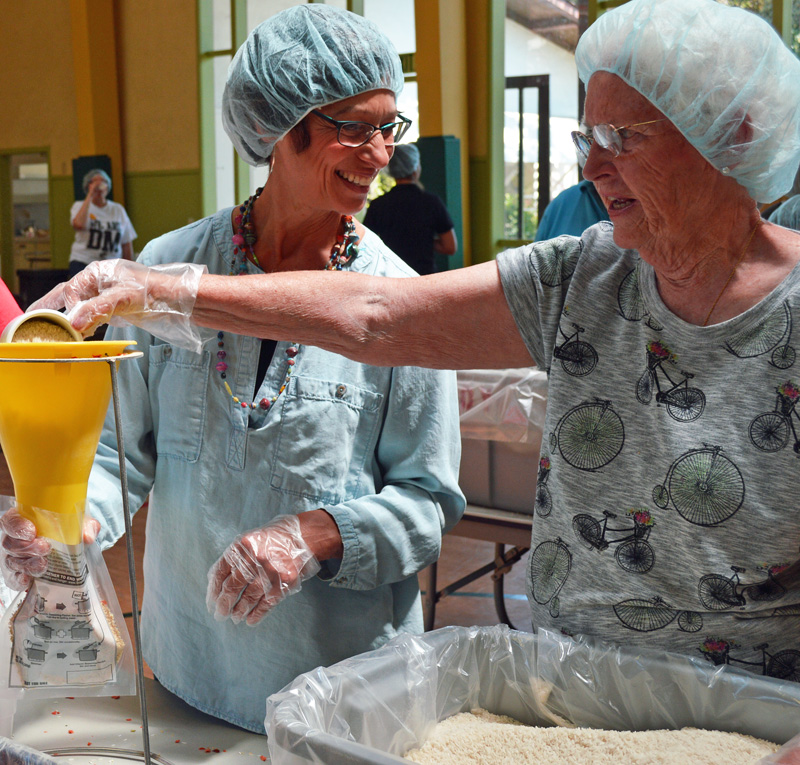 One volunteer, Lane, lives in Santa Cruz and saw the flyer posted in the Campbell Library. He didn't know about Stop Hunger Now but knew he wanted to be a part of this unique opportunity. After his volunteer shift, Lane said, "I was very happy to be a part of this experience" He found it inspiring and said these types of events can "wake a church up." He particularly enjoyed that this was a tangible experience with "active involvement," like planting seeds where you can get your hands in the soil. Lane thought the entire event was very good and "can't wait for the next time."
And there will be a next time. The church received a grant that will match $2,500 towards the next event. If matched, this generous donation puts the church well on its way toward raising the $11,600 necessary to organize another event in which 40,000 meals are packaged. If you'd like to contribute, you can write a check to Campbell UMC, noting "Stop Hunger Now" in the memo section.
Reflecting on the event, lead organizer Carol Laucella says, "What touched me was that all of those people showed up knowing that they will never see the people who will benefit from their hard work. They will never hear their thanks. It was enough for them to know that through their efforts a school child will be fed or a patient at risk of malnutrition will be given a better chance to survive. I believe God's love connects us all, and the people who came felt great to be a part of it! I know I'm glad I was there."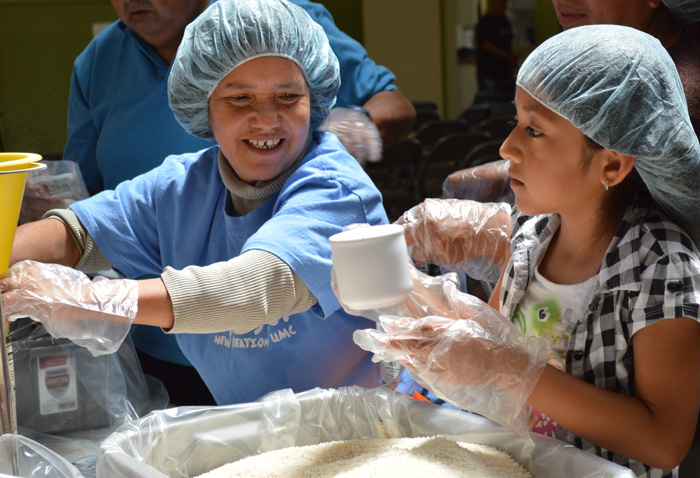 Campbell UMC's Community Day of Service with Stop Hunger Now was truly a day of high-spirited liveliness and controlled chaos, with music playing that kept the volunteers motivated and bopping their heads up and down to the beat. There were the heartwarming scenes of young children, some gleeful, others fully concentrating on their task, working alongside seniors. And the youth set a brisk pace that kept everyone hopping! The hall felt alive as the abundance of activity and contagious enthusiasm spread from person to person. And there was James, a Del Mar student who worked every shift, ensuring the boxes full of life-sustaining nutrients were properly packed, sealed and safely loaded onto the Stop Hunger Now truck.
At the end of the day when the last person left the hall and any remnants of rice and soy were swept from the floor and the tables and chairs were put away, all was quiet. It was as if an amazing undertaking had never happened. And yet it did, and the echoes and etched images will linger on. And the last person to leave did so feeling tired but with a Mona Lisa smile. The experience will forever live in the hearts and memories of everyone who took part in one very special day in which a community came together and packed 40,505 meals that may very well save a child's life. Thank you to everyone who planned, volunteered, and participated. Together, we made a difference.
Please enjoy a slideshow that highlights the activities, the enthusiasm, and the diversity of the community who joined as one to pack meals.
Stop Hunger Now is a non-profit organization dedicated to eradicating hunger in our lifetime. Almost 200 million meals have been packaged and shipped to 65 different countries, targeting children and offering life-changing aid to the world's most vulnerable. Globally, a life is lost every three seconds due to hunger and hunger-related diseases. Poor nutrition causes nearly half of the deaths in children under the age of five. Stop Hunger Now wants to build a movement and encourage individuals to become social change agents by spreading awareness and becoming involved with organizations, such as local food banks. Each meal packed costs the organization only 29 cents and consists of rice, soy, dehydrated vegetables and a flavoring mix that includes 23 essential vitamins and minerals. When cooked in hot water, each package creates a meal that feeds a family of six.