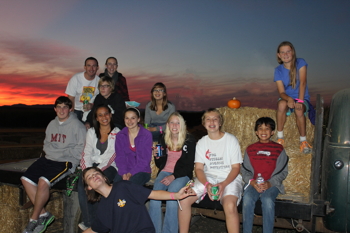 FAMILY MINISTRY
Welcome to CUMC!
We have many different programs for families and we'd love to have you join them.
Come and check them out!
Children's Programs
Sunday School
Sunday school classes are available for children ages 3-18 on Sunday mornings. Children are invited to join their parents for the first few minutes of the 9:00 am worship, and then follow their teachers into age level classes that are fun and engaging.
Child Care for Infants and Young Children
Quality child care in a clean, well-equipped nursery is available during the 9:00 and 10:45 worship service. In addition, all church sponsored events have childcare available upon request. Contact Holly Aspiras at campbellumcfamilies@earthlink.net.
Children's Music Programs
Joyful Notes
This choir is for grades kinder through Junior High and meets Wednesdays from 4:00 to 5:00 p.m. during the school year. Focused on developing children's musical abilities, this choir sings in worship six to eight times during the year. In addition the Joyful Notes presents a musical in May, complete with wonderful songs, dancing, and acting. This program teaches a valuable lesson through the use of music, choreography, and wonderful sets. It is both fun to perform in and to watch. Join us for the first Sunday in May for an awesome show. For more information contact Daelene Groff, director, at campbellumcfamilies@earthlink.net.
Diamond Ring-ers
This group offers an opportunity for young people to learn about hand bells and how to work together in a music ensemble. It is a great opportunity for children who do not sing to have a music experience. This choir is for children grades 3 and up and meets Wednesday 5:00 to 6:00 p.m. Contact Karen Martin-Keller, director at campbellumcfamilies@earthlink.net.
Youth Groups
4th and 5th Grade Fun Times
Meeting periodically on Sundays from 11:45 to 1:15, this group offers fourth and fifth graders the chance to get to know their peers in a fun and easygoing environment. Play games, make cookies, do service projects, and make new friends! Contact leaders, Patty Henderson atcampbellumcfamilies@earthlink.net or Amy Peterson campbellumcfamilies@earthlink.net.
Youth Group for 6th – 12th graders
Meeting on Sundays at 11:45, this program offers a wonderful chance for youth in grades 6-12 to practice leadership, engage in community service, get to know each other, and have a great time. It's a wonderful time and place to meet new people, make lifetime friends and contribute to the community! Contact: Melinda Knepp at campbellumcfamilies@earthlink.net.com or Jennifer Norris at campbellumcfamilies@earthlink.net.
Other Programs
Vacation Bible School (VBS)
Held during June, VBS is a weeklong half day program of fun activities facilitated by youth. Children look forward to a week of outdoor games, crafts, songs, and learning in a living history atmosphere. Registration is available online beginning in April.
Bright Days Preschool
This preschool is an independent preschool that serves the broader community during the week. In a play-based environment, children's unique and creative abilities are nurtured. The program emphasizes positive social, emotional and cognitive growth through developmentally appropriate activities. Programs are available for children aged 2 years through 5 years old. Check out Bright Days Preschool on the Web.
For more information on our programs please contact or email our Family Ministries Coordinator, Holly Aspiras at 408-378-3472 Ext. 14 or email: campbellumcfamilies@earthlink.net