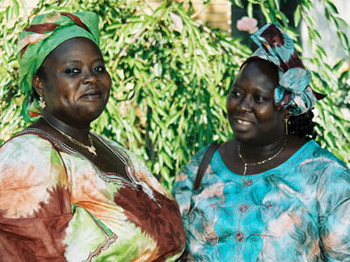 OPPORTUNITIES FOR GROWTH, SERVICE AND COMMUNITY
At Campbell United, there are many areas of interest and opportunities to expand horizons. Everyone is welcome and encourged to explore the programs to see which suits your interests.
Below are programs grouped by the type of opportunity. Click on the type to see an explanation of each program.
OPPORTUNITIES FOR STUDY AND SPIRITUAL GROWTH
SUNDAY SCHOOL
DISCIPLE BIBLE STUDY
OTHER ADULT OPPORTUNITIES for LEARNING & MINISTRY
OPPORTUNITIES FOR SERVICE AND MISSION
MISSIONS
STEWARDSHIP GROUP
WORSHIP TEAM
CONGREGATIONAL CARE TEAM
PRAYER SHAWL MINISTRY
WEDNESDAY WONDER WORKERS
OPPORTUNITIES FOR FINDING COMMUNITY
UNITED METHODIST MEN
50+ UNLIMITED
GATHERING OF MEN
OPPORTUNITIES FOR STUDY AND SPIRITUAL GROWTH [Return to top]
SUNDAY SCHOOL
An Adult Sunday Study Class meets in the Fireside Room at 9:00 a.m. This class varies in format and style. Past topics have included "Questions of Faith," "The Old Testament," "The Bible and Western Thought," and "Religions of India." Following a presentation, normally on video, the class shares their thoughts, feelings, and opinions. Contact person for this class is Sandy Snider.
DISCIPLE BIBLE STUDY
This is an intensive study of biblical material in depth, led by a trained lay leader from within the congregation. It involves a commitment "up front" to be regular in attendance, so that the study group may get to know each other and build deep relationships.
A small group of adults that meets on the first and third Wednesdays of each month in the CUMC Library from 8 a.m. to 9:15 a.m. The group's discussions are wide-ranging, inspired by a chosen book.
The Book Group reads a variety of works: biographies, classics, novels. It meets during the school year on the fourth Monday of each month from 4pm - 5:30pm. Contact: Sue Edson
There is a distinctly African flavor to church life in this community. The Fellowship meets on the first and third Sunday in the Chapel at 10:30. Many opportunities for fellowship and community involvement are available through the church. Contact persons: Rev. Daniel Gbundema, Joe Kappia
OTHER ADULT OPPORTUNITIES for LEARNING & MINISTRY
Classes and Study Groups, short term or seasonal, are offered each year. Advent and Lenten studies are offered most years; subjects and teachers vary. United Methodist Women offers studies related to selected topics for each year.
OPPORTUNITIES FOR SERVICE [Return to top]
Offering service and assistance to others is "assumed" as part of the life of discipleship at Campbell United. Many working groups enable members of the congregation to be active in community ministries.
The Outreach Team works to tell the story of the church to the larger world.
The Church and Society group organizes teams
to provide meals for InnVision Homeless shelter,

for regular food drives for Second harvest Food Bank,

to participate in regular creek clean-up activities,

with opportunities for fellowship and action events with person of other faith traditions including the annual 9/11 interfaith dinner.
The group also sponsors study events on various social justice issues.
The Stop Hunger Now Mission packages meals to be distributed to those throughout the world who are in the greatest need.
MISSIONS
The Missions group organizes a variety of community outreach activities, including:
Work teams,

participation in the annual CROP Walk,

Third World Hand Arts sale

organizing the church's "alternative Christmas" giving program,

providing gifts for children of prison inmates through the Friends Outside program.
The Elmwood Ministry connects member of our church with ladies serving sentences or awaiting trial through art and prayer
STEWARDSHIP GROUP
The Stewardship group organizes quarterly service days to provide assistance to elderly and disabled people in the community helping with household repairs and chores. The group works closely with Heart of the Valley, a community group offering assistance for this in need.
WORSHIP TEAM
The Worship Team operates a program for women at Elmwood jail to enable the creation of visual art for worship.
CONGREGATIONAL CARE TEAM
The Congregational Care team has a "Fifteen minute" program offering assistance to elderly or disabled persons needing routine assistance with household needs or rides to doctor's appointments.
PRAYER SHAWL MINISTRY
The Prayer Shawl Ministry group meets monthly to create prayer shawls that are taken to people who are sick as well as baby blankets that are given to all new babies in the community.
Have You Thought About Your Legacy? Your Endowment Fund Committee suggests that you may want to consider some ideas about the legacy we leave behind.
WEDNESDAY WONDER WORKERS
The Wednesday Wonder Workers meet at the church every Wednesday morning at 9:00am (some meet for breakfast at Cocos at 8:00am). They do light repairs, cleaning tasks and offer some routine administrative support for the church office.
A group of volunteers that travel in their RVs to different locations performing community service.
OPPORTUNITIES FOR FINDING COMMUNITY [Return to top]
Women in Mission
PURPOSE
"The organized unit of United Methodist Women shall be a community of women whose purpose is to know God and to experience freedom as whole persons through Jesus Christ, to develop a creative, supportive fellowship, and to expand concepts of mission through participation in the global ministries of the church."
Women's Division
EVENTS
In addition to a monthly general meeting on Thursday morning, the UMW hold regular circle meetings during the second week of each month, which have different programs and styles, some meeting during the day and others in the evening. The UMW also holds an annual Spring Luncheon (a fundraiser for mission projects), participates in a District Retreat, the Conference Legislative Event, the Assembly of United Methodist Women, the Schools of Christian Mission, and also participates in studies (studies of a geographic area, spiritual growth and a social concern).
UNITED METHODIST MEN
United Methodist Men is a group of older men that gathers monthly for friendship and fellowship, meeting for dinner and a special program on the second Monday of each month, from 6:30p.m.
UNITED METHODIST YOUTH FELLOWSHIP (UMYF)
UMYF offers all youth from 6th to 12th grade a place to connect, have fun and become active participants in the congregation. As the youth see it they are "a fun, supportive, energetic, faithful, happy, welcoming, service oriented community of youth from Campbell United Methodist Church."
Youth from 4th and 5th grades meet once or twice a month. They are learning to work together through fun games and activities
RECONCILING CONGREGATION COMMITTEE
Campbell United Methodist Church is a Reconciling Congregation. Gay, lesbian, bisexual, and transgender persons and their families are welcome here.
50+ UNLIMITED
50+ Unlimited is made up of men and women, age 50 and older who come together for fellowship and fun in a variety of activities throughout the year. There is no membership requirement; all are invited. We hope to grow in our sense of belonging to a caring community by participating with others in casual, enjoyable events in a wide variety of settings. There are opportunities for barbecues, potlucks, a Christmas party, attendance at Stanford Theater for movie classics, and other events which are listed on the calendar in the Fellowship Hall. Contact persons: Bob or Betty Renfer, info@campbellunited.org.
GATHERING OF MEN
Men's group, for men of all ages -- meets first Saturday of the month 8AM - 10AM in the Fireside Room. Participants have a continental breakfast during a time of sharing and discussion of faith-related issues. Contact person: Dave Sargent, info@campbellunited.org.
Campbell United has a variety of music programs for all ages and skills
CHILDREN'S COUNCIL
Takes care of the children's ministries, programs and Sunday School.
At Bright Days Preschool, we strive to know each child's unique and creative abilities, nurturing them in a play-based environment, emphasizing positive social, emotional and cognitive growth through developmentally appropriate activities